We know the dental field has a reputation as "boring." But in reality, dentistry is full of interesting, eccentric facts you might not know, like this one:
Want to know why straight teeth are considered the ultimate goal when hardly anyone comes by them naturally?
Historically, healthy, straight teeth were a sign of wealth. Only 1 in 90,000 people have genetically straight teeth. If you weren't that one person, but you still had a nice smile, it showed others that you were able to afford what it took to care for your health.
It wasn't the lack of dentists that kept people from fixing their teeth. As another cool tidbit, the first recorded dentist was way back in Ancient Egypt in 2600 B.C.
But in civilized society throughout the world, only the rich could afford dental care.
Today, healthy teeth aren't the first sign of wealth, but they're still used as a fast judgment of someone. Many people admit that one of the first things they notice about a person is their smile. This factoid of knowledge makes people without "perfect" smiles feel insecure.
The good news is that we don't live in the past, and our technology is future-oriented at Dixwell Dental. If you have a "flaw" you want fixed, we can help you! 
One of the most common dental fixes we offer is called a veneer. It's a wafer-thin shell made of enamel-like material that can cover up almost any minor imperfection.
Is it the right fix for you? Read on to find out!
What Are Veneers, and Will They Work For You?
At first glance, you might not think a veneer could transform your smile almost instantly. But these miniature dental accessories pack a big punch.
They're versatile, able to fix small imperfections like a chip or a crack in your tooth. Sometimes, people have stained teeth that are resistant to whitening treatments. A veneer can cover up the stain. Crooked teeth, teeth damaged by grinding and clenching, and unwanted gaps in your smile are all covered up by these shells.
Veneers are also in demand because they're so easy to apply. An impression is made of your teeth, and then your standard or custom-made shells are created. When they're ready, the new veneers are bonded to your teeth in a process that is usually pain-free.
We hear the question, "But are veneers permanent?" a lot. The answer is that the long-term veneers you'll likely want have the label of permanent. They don't last forever, yet, they're called permanent because the alternative is a temporary veneer that lasts about a week.
How Long Will Your Veneers Last?
Permanent veneers will stay in good shape for anywhere from 5 to 15 years or longer. Part of this lifespan depends on the quality of the material used. At Dixwell Dental, our materials are top-quality, and our professionals specialize in the process to create and bond them for you.
Another part of the equation is how well you take care of your veneers at home. As with your other, natural teeth, the better your dental habits are, the longer they'll last. Brush, floss, and use mouthwash every day, and see your dentist for regular checkups.
The final factor in the longevity of your veneers is the type of material you choose. Almost all veneers are made of composite resin or porcelain. These two materials are used because of their ability to withstand long-term pressure, chewing, and grinding.
The finished result is going to look amazing with either material. The difference comes down to a few other characteristics.
Composite Resin Versus Porcelain Veneers
Composite resin is the material that makes up the average person's veneer. It's attractive because it can be applied in a hurry if you choose the standard veneer, and it's more affordable than the porcelain alternative.
Since composite resin veneers are cheaper, they're the standard material you'll see in most dental offices. If you choose to not have a custom-made veneer, you and your dentist can choose a shape and shade that matches your teeth the best.
The veneer can quickly be shaped and sculpted to fit your tooth, and then bonded to the enamel in one visit.
However, composite resin veneers are more likely to be damaged with hard or sticky foods and other use. It's possible to have it fixed if you catch it soon enough. Repairing veneers is another common dental procedure. Any veneer can become loose or damaged with wear and tear.
The other alternative is porcelain. It's more expensive, but it's as close to the enamel in natural teeth as it gets. It can also be custom-created to match the shade and shape of your teeth perfectly.
Porcelain is highly resistant to damage, and it takes a lot to stain the material. On the other hand, composite resin veneers can stain as your natural teeth would.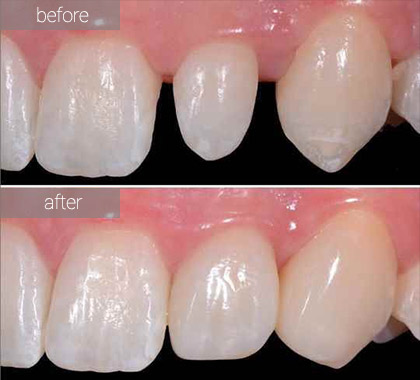 One more advantage of porcelain is that once you have your veneer, you can forget about it and treat it just like your other teeth. It lasts longer than the composite resin version, giving you closer to 15-20 years of use.
With both types of veneers, you'll still have to keep your dental hygiene routine on point. Daily dental care is essential for your oral health. And regular checkups with Dixwell Dental give us the chance to track the status of your natural teeth and your veneers.
Making Your Oral Health Our Number One Concern
Many of our patients have questions like "How long do porcelain veneers last on your front teeth?" and other individual worries. It's our job and our pleasure to answer them for you. Whatever your unique needs are, we're here to guide you to your goal.
Do you think a veneer could be the solution you've been looking for to cover your minor imperfections? Is a checkup and cleaning next on your list of health tasks to conquer?
From preventative care to cosmetic treatments, contact the friendly experts at Dixwell Dental to take care of you. Your oral health is our number one concern.